Forex Trading: A Beginner's Guide
Forex is the term used to refer to foreign exchange which is the means by which one currency is changed to another.
Introduction
People may make this exchange for a number of reasons including but not limited to commerce, tourism, and trade. Read on to understand what forex trading entails.
Forex Trading 101
The act of trading currencies has the potential to be risky. While there are a number of regulations in place that have been brought forth by the interbank market, not all forex instruments are standardized. This means that there are instances of forex trading being completely unregulated in certain parts of the world.
The aforementioned interbank market consists of a number of banks that trade with one another across the globe. The banks here are each responsible for determining and accepting sovereign risk along with credit risk and have to establish internal processes aimed at keeping them as safe as possible.
Steps to Start Forex Trading
Similar to equity trading, you can begin your forex trading journey by following the steps mentioned below.
Familiarize yourself with forex – Although forex trading is not complicated, it is an entirely different endeavor and requires you to have ample knowledge pertaining to it. For instance, the leverage ratio of forex trades surpasses that for equities. Another example is the fact that factors that drive the movement of currency prices differ from those factors that drive equity markets. There are ample free resources online aimed at educating you on forex online.
Create a brokerage account – You will require a forex trading account at a brokerage in order to partake in forex trading. The brokers in the realm of forex trading do not charge commissions. They derive their income via spreads (also called pips) between the buying and selling prices. As a beginner you should consider creating a micro forex trading account that has low capital requirements. These accounts host variable trading limits and permit brokers to have their trades amount to as low as 1,000 units of a given currency. This is significantly low as standard accounts ordinarily trade 100,000 units of currency. With a micro-forex account, you can acquire a greater level of ease and understanding of forex trading prior to taking a bigger leap into this form of trading.
Developing a trading strategy – Predicting the time and movement of the market isn't always a possibility which is why it is important to have a trading strategy up your sleeve. In order for this strategy to be most viable, it should take into account the reality of your funds and your current situation. It is aware of the funds you can afford to spare to trade and the amount of risk that you can afford to incur.
Always be aware of your digits – Once you commence your forex trading journey it is important that you always be aware of your positions at the end of each day. Several trading software already have provisions that allow you to keep daily tabs on your trades. It is important to make sure you have sufficient funds to carry out future trades.
Emotional equilibrium is vital – As a beginner, it is easy to get swayed by your emotions however it is important to not harp on unanswered questions that can lead you down a web of confusion that can make you make unwise trading decisions. You must learn to maintain emotional equilibrium in the face of both profits and losses.
Conclusion
The world of forex trading and the forex market is exciting and offers potential rewards to those who are willing to take risks. Always read the fine print and perhaps start with a micro forex trading account with your broker if you are new to forex trading. Always have a viable strategy up your sleeve such that you don't spend beyond your means and only take on risks that your portfolio can tolerate.
FAQs
Q1. What is Forex?
A1. Forex is a term that refers to foreign exchange. It is used for the process of changing one currency for another.
Q2. Where can you learn about Forex trading?
A2. The democratization of the internet has made it possible for almost anyone to be able to learn anything on the internet today and learning about forex trading is no different. There are a wide range of resources on the internet today that impart knowledge on forex trading.
Q3. Why is it important to check your numbers at the end of each day?
A3. It is important to check your numbers at the end of each day as it allows you to see whether you have any pending positions that need to be filled. Moreover, you can make sure you have the funds needed to make consequent trades.
How would you rate this blog?
Translate the power of knowledge into action. Open Free* Demat Account
Latest Blog
Commodities Trading: An Overview

Commodities serve a key role in most of our lives.

Pair Trading Logic

In order to better understand pair trading, it is important to first understand where it comes in handy, i.e., in rule based trading. Rule based trad…

Top 10 Cryptocurrency to Invest in India 2021

Cryptocurrency is all the rage currently. The various digital currencies on offer today possess certain unique advantages, thanks to blockchain techn…

NSE Trading Outage: How Angel One tackled it

Trading at the NSE was halted yesterday for most of the normal trading hours post 11:40 A.M. due to a technical outage.

Simple trading strategies for new traders

Just like any journey, when you embark on trading as an investment option, you need to take time to get habituated to your surroundings and to the ne…

Trading Strategy for Beginners in 2021

Indian stock market has rebounded strongly in 2021 after the tumultuous effects of covid-19 in 2020.

What is Momentum in Stock Trading?

This explainer discusses what momentum means in stock trading, the meaning and methods of momentum trading, and its benefits and drawbacks.

The Future of Trading

The mad rush associated with Wall Street or Dalal Street is evidently on the wane as investors, brokers and advisors alike are migrating to the digit…

Introduction of Artificial Intelligence...

In the last few decades, the buzzword within the trading and investing sector has been artificial intelligence, or 'AI.'

What is Muhurat Trading and Why it's...

The muhurat trading is a special one-hour trading session allowed by the stock exchanges on the day of Diwali. Buying and selling shares during the m…
Get Information Mindfulness!
Catch-up With Market
News in 60 Seconds.
---
The perfect starter to begin and stay tuned with your learning journey anytime and anywhere.
Visit Website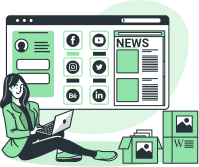 Get Information Mindfulness!
Catch-up With Market
News in 60 Seconds.

---
The perfect starter to begin and stay tuned with your learning journey anytime and anywhere.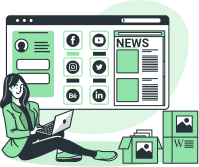 Subscribe to #SmartSauda Newsletter